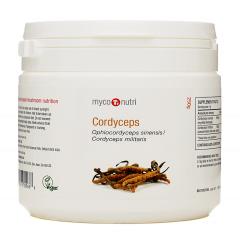 MycoNutri Cordyceps - 250G
(MCS250)
15% discount on purchases of 3 or more
Product Description
Many of the key active compounds produced by Cordyceps are secreted into the growth substrate and MycoNutri Cordyceps combines full-spectrum Ophiocordyceps sinensis mycelial biomass grown in the USA under nature-identical conditions with a concentrated extract of cordycepin-rich Cordyceps militaris, combining these two powerful Cordyceps species. Contains 0.3% cordycepin.

MycoNutri products are manufactured in the U.K. to EC food standards and are suitable for vegetarians and vegans (capsules are of plant origin). No additives are used and the products are dairy, gluten, maize and soya-free.

250g Cordyceps Sinensis hot-water extract and optimized mycelial biomass.
Products
Adaptogens

Adjunct Nutrition

Brain

Cardiovascular Health

Digestion

Energy & Vitality

Eyes

Joints & Muscles

Liver

Men

Mushrooms

Pets

Probiotics

Relaxation

Respiratory

Superfoods

Women

We Love!