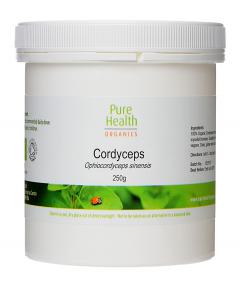 Organic Cordyceps - 250g
(OCS250)
20% discount on purchases of 3 or more
Product Description
Pure Health's organic full-spectrum Cordyceps is grown in the US under nature-identical conditions and contains both the mycelium and young fruiting body of Ophiocordyceps sinensis, cultivated into a fermented mycelial biomass on edible, grain-based substrate.

This format captures the full range of metabolites produced by the mushroom, including enzymes and extra-cellular polysaccharides, as well as substrate breakdown products (arabinoxylans etc.) and cell wall components (beta-glucans, proteoglycans and related heteropolysaccharides) while ensuring freedom from contamination.

Soil Association certified and free from additives, pesticides, heavy metals or other contaminants. Suitable for vegetarians and vegans.

250g Cordyceps sinensis optimized mycelial biomass.
Products
Adaptogens

Adjunct Nutrition

Brain

Cardiovascular Health

Digestion

Energy & Vitality

Eyes

Joints & Muscles

Liver

Men

Mushrooms

Pets

Probiotics

Relaxation

Respiratory

Superfoods

Women

We Love!