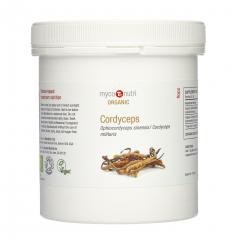 Organic MycoNutri Cordyceps - 200G
(OMCS200)
Product Description
NOW SOIL ASSOCIATION ORGANICALY CERTIFIED

Pure concentrated hot-water extract free from maltodextrin or other carriers combined with mycelial biomass. This combination is rich in polysaccharides and nucleoside-derivatives.

MycoNutri products are manfufactured in the U.K. to EC food standards and are suitable for vegetarians and vegans. Dairy, gluten, maize and soya-free.

200g Cordyceps militaris pure hot-water extract together with Ophiocordyceps sinensis optimized mycelial biomass.

Products
Adaptogens

Adjunct Nutrition

Brain

Cardiovascular Health

Digestion

Energy & Vitality

Eyes

Joints & Muscles

Liver

Men

Mushrooms

Pets

Probiotics

Relaxation

Respiratory

Superfoods

Women

We Love!