Chrysanthemum Tea
We have always loved Chrysanthemum tea (Ju Hua) for its soothing properties since the days when there was a product called 'Soothacup' on the UK market in a convenient teabag format, which tasted great. Unfortunately costs increased to the point where it became uneconomic for the manufacturer to continue so now we drink this premium sulphur-free chrysanthemum tea sourced from Taiwan where it is traditionally grown and naturally dried over charcoal by the native people.
A valued herb in TCM its actions are traditionally described as:
Dispersing Wind and Clearing Heat
Clearing the Liver and the eyes
Calming the Liver and Extinguishing Wind
As this tea is loose rather than in teabags just place a good pinch in a mug and add boiling water. Once the flowers have sunk and the tea cooled sufficiently it can be enjoyed and topped up with more water as required.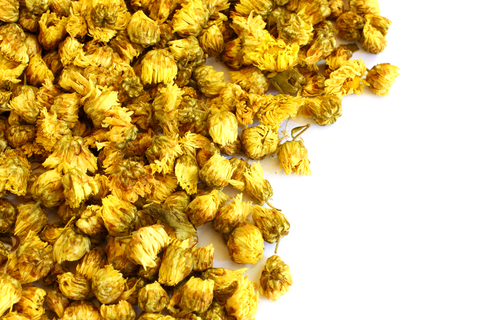 Explore our Chrysanthemum Tea products below:
Products
Adaptogens

Adjunct Nutrition

Brain

Cardiovascular Health

Digestion

Energy & Vitality

Eyes

Joints & Muscles

Liver

Men

Mushrooms

Pets

Probiotics

Relaxation

Respiratory

Superfoods

Women

We Love!