Reishi-Cordyceps Complex

Cordyceps mycelial biomass with Reishi hot-water extract and Reishi ethanolic extract.

Both Reishi and Cordyceps are well known for their hepatoprotective properties and for their ability to support lung function.

The triterpenoid ganoderic and lucidenic acids in Reishi also have proven anti-inflammatory properties.

In addition, this complex provides all-round support for energy and is an excellent supplement for those with hectic lifestyles.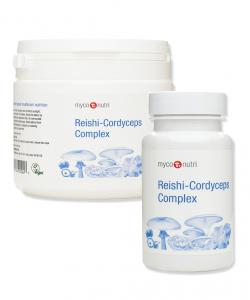 Explore our Reishi-Cordyceps Complex products below:
Products
Adaptogens

Adjunct Nutrition

Brain

Cardiovascular Health

Digestion

Energy & Vitality

Eyes

Joints & Muscles

Liver

Men

Mushrooms

Pets

Probiotics

Relaxation

Respiratory

Superfoods

Women

We Love!